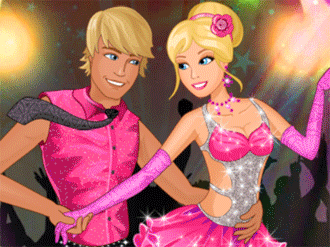 Princess Dance Party
Title: Princess Dance Party
Description: Every girl loves dancing, and Olivia is not an exception. Olivia does not simply love dancing - she dances perfectly well! She specializes on ballroom dancing and salsa. Together with her partner Paul Olivia has already won first prizes on multiple dance championships and tonight they are going to take part in another one. The competition will take place in Olivia's home town, so she doesn't have to go anywhere and has some spare time for shopping. Olivia and Paul want to choose the best costumes for their performance. Winning the first prize doesn't depend on your skills only - you need to look iconic, too! Will you be Olivia's dancing stylist? Help Olivia and Paul pick matching dance outfits that will help them shine on tonight's contest!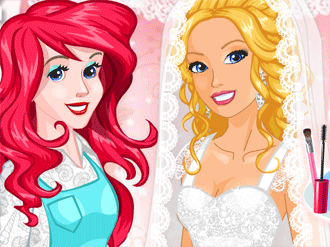 Ariel Wedding Stylist
Title: Ariel Wedding Stylist
Description: Tomorrow Barbie's life is going to change forever – tomorrow she is getting married! Barbie and Ken are going to say their wedding vows on a beautiful beach with white sand under the shade of tall palm trees – isn't that romantic? Barbie had a long hard time choosing a wedding stylist because she wants to look flawless on the biggest day of her life. Finally Barbie decided to go to Ariel's beauty salon. Princess Ariel is an experienced beauty stylist and a big expert in hairstyling and makeup. And yes, she still uses a fork as a hairbrush sometimes! Help Barbie choose the most delicate and elegant bridal look from a wedding fashion magazine. Then assist princess Ariel in creating a makeup and a hairstyle Barbie chose. Complete the look with some sparkling wedding accessories and make Barbie the most beautiful bride!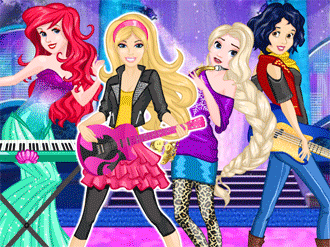 Disney Rock Band
Description: Disney princesses are tired of being it girls. They are bored with waltzes and ball gowns and now they wanna rock! Princesses Ariel, Elsa and Snow White decided to form a rock band. On the front there must be an ultimate star, so the princesses decided to invite Barbie. And Barbie agreed! Now the four of them are getting ready for their first show. Ariel is on keyboards, Elsa plays sax and trumpet, Barbie and Snow White are on guitars. And all of them are perfect singers! The band is so busy with rehearsals that they have no time to think of their looks. Maybe you could take care of that? Choose the most flashy and rocking outfits for Barbie and her Disney princess band!